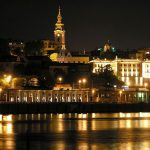 Norises laiks: 11.03. – 18.03.2011
Norises vieta: Belgrada, Serbija
Dalībnieku skaits:20
Pieteikšanās: līdz 09.02.2012 piereģistrējoties eestec.net
Plašāks info: eestec@ditfi.lv, www.eestec.net
LC Belgrada piedāvā lielisku apmaiņu visiem interesentiem, kas vēlas aizraujošā, izglītojošā un reizē arī izklaidējošā veidā iepazīt vienu no Eiropas vecākajām pilsētām- Belgradu, un ne tikai. Būs iespēja apmeklēt arī citas interesantas pilsētas Serbijā.
Have you ever thought of attending a seven-days long city rally? Or even better, seven-nights long city rally? No…? Well, this is the right moment to do that!
LC Belgrade proudly presents you the exchange of all the exchanges… "Belgrade State of Mind"… You might have heard of it, or even experienced the part of it, but the fact is… There are no words to describe this feeling… We can just give you a little glimpse of what to expect this March…
This exchange will be all about discovering the real soul of one of the oldest cities in Europe. Its secret passages will lead you to the magnificent fortress of Kalemegdan and the Bohemian quarter of Skadarlija. More importantly, you will have the chance to witness how EESTECers take the most out of the world's famous nightlife. Theatres, interesting museums, countless restaurants and clubs will just help you get use to this never-ending party that's happening in Belgrade.
And if that wasn't even enough… Your adventurous spirit will also be challenged by one of the wildest parts of Serbia, The National park of Tara. Together with Belgraders you will have the chance to explore the wooden city of Mećavnik, enjoy the soulfood of Serbiaand even try out some things you just didn't know they still exist.
So if you are ready for some new experience, apply and don't miss the chance to explore one of the best-kept secrets of Europe.