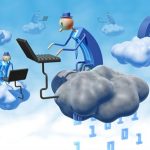 Norises laiks: 04.03. –11.03.2011
Norises vieta: Stambula, Turcija
Dalībnieku skaits: 20
Pieteikšanās: līdz 02.02.2011 piereģistrējoties eestec.net
Plašāka info: eestec@ditfi.lv, www.eestec.net
LC Istanbul piedāvā lielisku iespēju iegūt plašākas zināšanas par mākoņu skaitļošanu un reizē apmeklēt neatvairāmo Stambulu. Ja Tev interesē viss, kas ir saistīts ar mākoņu skaitļošanu un tev ir idejas, kā ar to var uzlabot IT pasauli, tad Tev noteikti ir jāpiesakās šim pasākumam.
What about using just a thin LCD except for a 3 kg laptop or a desktop? What if there weren't any harddisks in your computers? We are proud to announce our upcoming workshop "CLOCODILE"  (CLOud COmputing and Delightful Istanbul Life is Enclosed) which will be held on 4 – 11 March 2012, in Istanbul, Turkey.
Imagine a world that your data would never been lost or a harddisk that does not fit in your pockets. The days that you can reach your data with just one password are not far away. Cloud Computing is going to shape future computers. It is the new trend in IT World which  will change all human habits. In this workshop following topics are going to be discussed:
-What is Cloud Computing?
-Advantages and disadvantages of Cloud Computing
-Services of Cloud Computing
-Attitude of companies
-Distincts between classical methods and Cloud Computing
Our goal is to teach what exactly Cloud Computing is and to create ideas for future on this topic which may change the IT World.
Wait, we haven't forgotten the craziest part of our event. You'll forget about any other cities or time you've spent anywhere, and you will never forget your most delightful time in your life, of course in Istanbul. You should know that one week is not enough to see all beauties of Istanbul which is a metropolitan with 17 million population ; however,  you 'll have an unforgettable 7 days without doubt.As one of the biggest cities, Istanbul is full of beauties, cultural activities, historical places and delightful nightlife of course. Istanbul has become the capital of 3 biggest empires of the history; Roman, Byzantine and Ottoman Empire. So just guess how old the city is and how much diversity and historical richness it includes. We are going to take you to Topkapı and Dolmabahçe Palaces where the Ottoman Sultans resided, the Hagia Sophia Museum from the 6th century, the Blue Mosque, Basilica Cistern and some more surprise beautiful places. Participants will also have the chance to watch both Asian and European Part from the middle of the Bosphorus when we are making Bosphorus Tour as a tradition. You will taste Turkish Cuisine, Nargile and Rakı with Turkish hospitality. Can you imagine a street where about 1 million peopele walks on just in one day? That street's name is Istiklal and parties will be held in Istiklal Avenue which is the most crowded and crazy street you can ever see. Please do not forget to bring extra SD Cards for your camera, because your card will be full at the end of the first day!