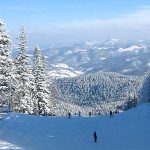 Norises laiks: 20.03.2012 – 27.03.2012
Norises vieta: Jahorina, Bosnija un Hercegovina
Dalībnieku skaits:15
Pieteikšanās: līdz 16.02.2012 piereģistrējoties eestec.net
Plašāks info: info@eestec.lv, www.eestec.net
LC East Sarajevo piedāvā lielisku iespēju apmeklēt Infoteh 2012, kur būs iespējams dzirdēt atdzītu profesionāļu lekcijas par problēmām un to risinājumiem šobrīd IT jomā. Bez akadēmiskās daļas būs arī iespējams pavadīt laiku ar citiem EESTECiešiem apskatot Bosnijas un Hercegovinas dabas ainavas un iepazīstot viņu kultūru, vai vienkārši atpūšoties kādu vakaru un iedzerot pa glāzei rakijas!
Hello dear EESTEC-ers, after 2 years LC East Sarajevo is back! We are proud to present you "Jahorina Spring Break", unforgettable event that will take place from 20th to 27th of March 2012.
Academic part will be held on Jahorina (our Olympic mountain), where International Scientific Symposium – Infoteh 2012 will take place. You will have opportunity to listen lectures from the experts, scientists, engineers, researchers and students that deal with information technologies. We provided hotel accommodation for our participants, transport to Infoteh and back.
Non academic part will be quite hedonistic and relaxed, but full of various activities, such as swimming, bowling…or just lazy sitting in pub and drinking beer/coffee/juice/rakija/whatever…
We will also visit Orlovaca cave and beautiful well of Bosna river. Sightseeing and visiting city landmarks are also part of the program. During these 7 days you will taste our traditional food and drinks. We will organize traditional Serbian night with our live music, and people dressed in traditional Serbian clothes.
And at the end, thing that you are waiting the most…….YES! Parties will be every night on various places!
As you could see, this is a life time opportunity. Many people would kill for it, so don't hesitate to apply! :)
See you in East Sarajevo!