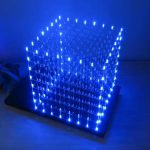 The EesteCube
Norises laiks: 27.02.2012 – 05.03.2012
Norises vieta: Hamburga, Vācija
Dalībnieku skaits:10
Pieteikšanās: līdz 26.01.2012 piereģistrējoties eestec.net
Plašāks info: info@eestec.lv, www.eestec.net
LC Hamburga pēc ilgākas pauzes piedāvā tev apgūt LED kuba brīnišķīgās iespējas spēlēs ar gaismu. LED kubs ir 5x5x5 dimensiju LED lampas savienotas kuba veidā. Tās kontrolēt var ar mikročipa palīdzību, tāpēc tev būs nepieciešamas nelielas zināšanas C valodā, lai varētu kontrolēt šīs gaismas spēles. Protams arī būs atpūta un lieliski pavadīti vakari skaistajā Hamburgā ar citiem studentiem!
After years of silence LC Hamburg is finally back on track and proudly presents its new production: "The EesteCube"
The curtains haven't been raised yet, but our short "trailer" will give you some hints of what awaits you. In the main role are starring ten (eventually up to 20) professional Eestecers.
The story takes place in the greenest and probably most beautiful city in Europe – Hamburg. The plot consists of unforgettable nights at the famous 'Reeperbahn' street, visiting the second biggest harbor in Europe, an adventurous city rally, and "tasting" of German beer. And all these amazing scenes will be enlightened by the unique LED Cubes all of our smart main characters are going to build.
They are going to be 5x5x5 single colored LED Cubes controlled by an ATmega32 microcontroller. Each of the 5 LED layers is driven by a D-Flip Flop. The controlling of this 3D LED matrix will be managed by time multiplexing.
The scenario will be presented by our professors, however in order to pass the casting the actors should have basic C programming knowledge.
So put your costumes and makeup on and apply for this fascinating workshop.
The premier will start on 27th February and end on 5th March 2012.
Deadline to apply is January 26th!
LEDs on: 3, 2, 1, action!