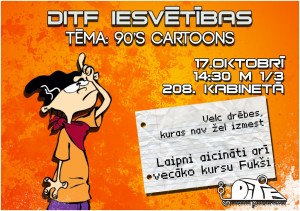 Klau pirmkursniek, Vai esi mācījies jau mēnesi un jūti ka kaut kas trūkst? Vai katru rītu braucot uz lekcijām attopies, ka ceļš uz universitāti ir tāds pats kā uz vidusskolu? Vai mācies kādā vecākā kursā, bet joprojām jauc, kurš elements masīvā ir kolonnas un kurš rindas?
Diagnoze: Fuksis 
Ārstēšanas metode: Iesvētības
Kad: 17. oktobris 14:30 M1/3 2.stāvs
Tēma: Animācijas filmas
Be there or be a closed four segmented object with all angles being half pi or one quarter of a circle !!!
P.S.Ģērbieties silti – drēbēs, kuras nebūs žēl vēlāk mest ārā.