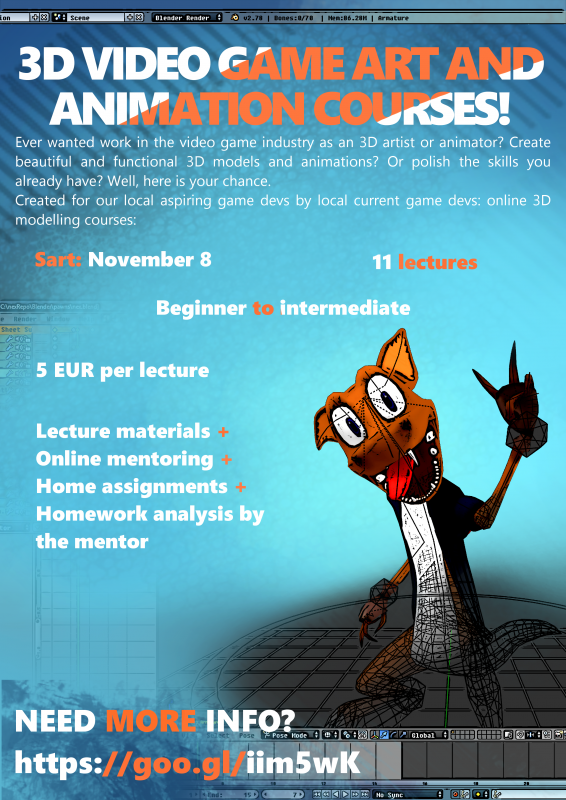 Ever wanted work in the video game industry as an 3D artist or animator? Create beautiful and functional 3D models and animations? Or polish the skills you already have? Well, here is your chance.
Created for our local aspiring game devs by local current game devs: online 3D modelling courses:
Start: November 8th.

You get lecture materials + online mentoring + home assignments (so you would actually get the knowledge you are paying for) + homework analysis by the mentor.

11 lectures in total (1 every week). https://drive.google.com/open?id=1QyQfiFUxyUmFDtsMAIthFjDke5PeDtvRNLZ7hl1obIo

Levels: beginner to intermediate.

You do not have an obligation to attend all lectures. Go to and pay only for the ones you are interested in.

Cost: 5 EUR per lecture or 55 for full set (7 EUR if paid in the last moment).
Full lecture plan here: 
More info: https://drive.google.com/open?id=124wNBYlpXP-NfutVMjt7D7purAqP4PQMt40U0cj_nII
Interested? Want to attend? Need more info? Just contact me:
Facebook: Laura Vilsone
E-mail: laura.vilsone@gmail.com