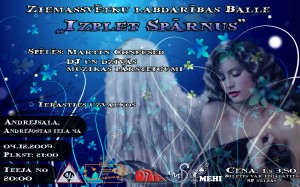 Hei! Vai esi jau izdomājis, kur pavadīt 4. decembri?
Ja nē, tad nāc pie mums uz DITF SP telpām M 1/3 – 205 vai zvani un iegādājies biļeti uz šī gada lielāko un labestīgāko Ziemassvētku labdarības balli.
Biļetes iespējams iegādāties pie:
Haralda Gribusta, 20226679
Aleksandra Borisenko, 29714834
Madaras Toras, 29970611
Biļešu skaits ierobežots, pasteidzies un nenokavē!
Tuvojas Ziemassvētki – gada sirsnīgākie svētki. DITF, EEF, ETF, MĶF un TMF Studentu pašpārvaldes ielūdz Tevi uz Ziemassvētku labdarības balli "Izplet spārnus". Ballē uzstāsies un patīkamu atmosfēru nodrošinās mākslinieks Martin Confused un vēl citi dzīvās mūzikas pārsteigumi. Starplaikos un nakts turpinājumā pēc dzīvās mūzikas uzstāsies DJ. Visa vakara gaitā Jūs uzjautrinās un iesaistīs dažādās aktivitātēs atraktīvi vakara vadītāji.
Balle notiks 4. decembrī pulksten 21:00 (ieeja no 20:00) Andrejostas ielā 4 [Andrejsala].
Dresscode: Kungiem – uzvalks, dāmām – vakarkleita.
Lai kārtīgāk sagatavotos paredzētajai balles atklāšanas valša dejai tiek aicināti deju pāri uz deju nodarbību 2.decembrī EEF Kronvalda bulvārī 1 plkst. 18.00 – par šo sīkāku informāciju varēsi saņemt, kad iegādāsies biļetes.
Biļetes pieejamas TIKAI iepriekšpārdošanā – cena Ls 3.50 (Skaits ierobežots). Daļa ienākumu no pārdotajām biļetēm tiks ziedota Bērnu Klīniskajai Universitātes slimnīcai. Meklē tās no 23. novembra savā studentu pašpārvaldē!

Atnāc un izplet spārnus!
Aicina DITF, EEF, ETF, MĶF, TMF Studentu pašpārvaldes!
—
Biļešu izplatītāji fakultātēs –
DITF – Meža 1/3 – 205. telpa 27896287, haralds.gribusts@ditfi.lv
EEF – Kronvalda bulvāris 1, EEF SP, kaspars.greckis@inbox.lv, 27896280
ETF – 208. telpa 27896200, martins.donins@rtu.lv
MĶF – 139. telpa 27896290, liva.dzene@rtu.lv
TMF –  fakultātē Kristīne (28848699), Lomonosova ielā Anna (26360654)
Par grupām:
Martin Confused:
Martin Confused ir viens no jaunās paaudzes talantīgākajiemdziesminiekiem. Plašāku atpazīstamību Martins ieguva pirms pāris gadiem, kaddienasgaismu ieraudzīja viņa pirmais singls "Too late". Pateicoties tieši šaidziesmai Martin Confused ieņēma pirmo vietu Māra Žigata vadītajā jaunoizpildītāju topā "Priekšnams", kas pavēra ceļu iekļūt Radio SWH rotācijā. "TooLate" tika iekļauta arī 2007. gada Nokia Openstage Baltic New Music ChartTop30. "Too Late" sekojuši arī vairāki citi ievērības cienīgi singli "Boy whonever cried", "People people" un citi. Nesen klausītājiem nodots MartinConfused jaunākais veikums – dziesma "Take my clothes", kura jau paspējusiiekarot TOP20 virsotnes gan Radio SWH, gan Radio Valmiera, gan Kurzemes radio.
Draugiem.lv: http://www.draugiem.lv/martinconfused
Andis Grīva:
Sētnieks, malkas skaldītājs, students, raidījuma vadītājs, skolotājs,viesstrādnieks, diriģents, mūziķis un pāri visam ceļotājs… MBP, Caffe,Popaholics, The Mundane, Muziikultur un Gordžest Songs Abaut Relidžondalībnieks – ANDIS GRĪVA ir no tiem cilvēkiem, kurš neskries pa priekšu, laiTEv būtu jāiet aiz viņa, un nesekos, ja pa priekšu iesi Tu. Viņa draugi ir tie,kas iet viņam līdzās. Par un kopā ar tiem tad arī ir šis stāsts.
0.64 Ls:
Pirms pāris gadiem mēs šo grupu iepazinām ar vairākām lieliskāmdziesmām, kā piemēram, "You say that kissing is good" un, protams,"Uzmini nu". Šī grupa bija H2O ar Jāni Strapcānu virsvadībā. Neilgipēc iegūtās pirmās vietas radio SWH gada Top40 un Latvijas Mūzikas gada Balvasiegūšanas kategorijā labākā popdziesma, grupa pārtrauca savu muzikālo darbību.Pēc gandrīz divu gadu pārtraukuma mēs klātienē varēsim dzirdēt dziesmu "Uzmininu", jo Jānis Strapcāns ir atgriezies ar savu jauno grupu – 0,64 Ls. Šis ir grupastrešais publiskais koncerts. Jau pavisam drīz mēs dzirdēsim arī grupas pirmoradio singlu.