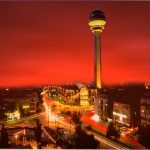 TOOL: Engineering Economics & Management
Norises laiks: 10.03.2012 – 17.03.2012
Norises vieta: Ankara, Turcija
Dalībnieku skaits:20
Pieteikšanās: līdz 04.02.2012 piereģistrējoties eestec.net
Plašāks info: info@eestec.lv, www.eestec.net
LC Ankara piedāvā lielisku iespēju uzlabot savas komunikācijas prasmes un paplašināt savas zināšanas Inženierekonomikā un vadībā! Tu vari izbaudīt lielisku nedēļu kopā ar 20 citiem EESTECiešiem Ankarā, ne tikai apgūstot jaunas zināšanas, bet arī apgūstot viņu kultūru un labi pavadot laiku. Šis projekts ir apstiprināts Youth in Action, tāpec ceļa izmakasas tiks apmaksātas 70% apmērā pēc pasākuma.
As EESTEC'ers, which are the best students in their faculties, we are all trying to be good engineers in our fields, but do you think only technical lectures we have had is enough to be a good one? If you say "No way!", you need the correct TOOL! LC Ankara is proud to announce a brand-new international event, in cooperation with EESTEC Training Team:TOOL, a.k.a. Topic Oriented Optimized Learning.
TOOL is a week-long soft-skills training and academic lecture series on various themes. The idea was born among EESTEC Training Team, after the first "soft-skills training" event of EESTEC, Tools For Action, also organized by LC Ankara on 2009. The main motivation behind TOOL is to spread the knowledge within EESTEC and create the future leaders of it! Interested already? Wait for the details…
Theme of this first EESTEC TOOL is "Engineering Economics & Management". From 10th to 17th of March 2012, EESTEC'ers will attend trainings and lectures on various topics in this frame. The academic part of the event will be divided into two parts:
First part is various soft-skill trainings that will be delivered by EESTEC Trainers. If you are interested in this kind of an event, you should have heard about EESTEC Training Team and how well qualified trainers take part of it. So, participants will receive trainings on topics like;
•    Project Management and Scheduling
•    Risk Management
•    Strategical Planning
•    Organizational Continuity
•    Budget Planning
Second part will be academic lectures, again on the same theme. Lectures will be delivered by professors who have worldwide prestige on their fields. The topics will be;
•    Introduction to Engineering Management
•    Engineering Economic Analysis
•    Decision Analysis
Is it only about to improvement as prospective engineers? Please…
If you haven't met yet, let us introduce you Turkish cuisine, Turkish nargile, Rakı, belly dance, Turkish bathand most importantly, Turkish hospitality!.. The accomodation will be in city centre and participants will enjoy parties with a lot of different themes! We won't forget to have some EESTEC event traditions like sightseeing in historical capital of Turkey and international night as well.
An amazing, brand-new event is waiting for you! Apply via eestec.net with your motivation letter in English before 4th of February.