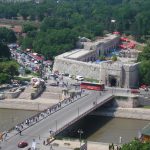 Norises laiks: 01.03.2012 – 07.03.2012
Norises vieta: Niš, Serbija
Dalībnieku skaits:15
Pieteikšanās: līdz 01.02.2012 piereģistrējoties eestec.net
Plašāks info: info@eestec.lv, www.eestec.net
LC Niš piedāvā uzlabot savas prasmes pasākumu organizēšanā un finanšu piesaistē tiem. Pavadi nedēļu lieliskajā Niš pilsētā Serbijā, izbaudi tās naktsdzīvi un atgriezies ar lieliskām idejām pasākumu rīkošanā un neaizvietojamām prasmēm to organizēšanā!
Have you ever wanted to turn lead into gold? Ever wondered how to convince a company of the importance of willingly giving money and stuff to EESTEC? Ever wondered how to get money out of thin air? FRAME IS YOUR EVENT!
In EESTEC International we're looking for people with EESTEC Spirit and the nuts to fight to make international events possible, to bring more and more quality to everything we do. Motivation is the cement that keeps us together, that makes us strong to make greatness happen. But the same way we can't build a palace without bricks, we can't deploy projects and organize events without money.
Enter FR, the team that will bring stability and a stable economical source to sustain our international infrastructure and make congresses, ECMs, T4T, etc. not only possible but pleasant, not having to worry about tight budgets and loans :)
But this is not only for International. Think about the experience you might acquire and the boost your local LC FR might get. So let's work together in a great team for all EESTEC.
And this awesome event is going to take place in a beautiful City of Niš. It has been gate between East and West. It has great cultural and historical heritage. One of the most important persons in European history, Emperor Constantine the Great, was born in Niš (roman name NAISSUS) in 272AD. Because of that, Niš is also known as The Emperor's city.
You will visit Fortress of Niš that exists at this place for more than 2000 years, and has layers from different historical periods. That's because Niš has been gate between East and West, so many civilizations passed here and they left some trace in the fortress. It's in this condition since XVII century, and now it's one of the best preserved fortifications of Ottoman style in Europe.
We have rich historical legacy, but we have even richer offer of national foods and drinks. You won't be hungry at any moment and you will be able to enjoy in our best meals. Don't forget our traditional drink- rakija!
Serbia is famous of its very live nightlife. So you will have a lot of fun in both traditional places called kafana and in night clubs.
We're preparing you unforgettable EESTEC event!
Motivational letter is required. For any additional question, contact treasurer@eestec.net.
Greetings from  Niš!