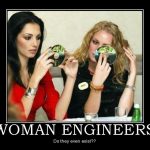 Norises laiks: 04.03.-11.03.2012.
Norises vieta: Stambula, Turcija
Dalībnieku skaits: 10
Pieteikšanās: līdz 02.02.2012 piereģistrējoties eestec.net – tikai sievietes!
Plašāks info: eestec@ditfi.lv, www.eestec.net
LC Istambul piedāvā iespēju uzzināt vairāk un izteikt savu viedokli par sievietes lomu sabiedrībā, biznesā un problēmām, kas skar sievietes darba vietās. Ārpus šī būs iespēja pavadīt visneaizmirstamāko laiku Stambulā un LC Istambul ir sagatavojuši kaut ko īpašu arī priekš 8. marta jeb Sieviešu dienas.
In cooperation with our  WIE (Women in Engineering ) affinity group, we are proud to announce the first "Women in Engineering'12" Workshop as LC Istanbul which will be held on 4 – 11 March 2012, in Istanbul, Turkey.
In the light of mission of WIE, we will start the discussion the position of women in society and business life and their problems in working places ,and, enterprising women in business. In addition to all these issues there are  many special  trainings that contribute our participants the development of their personal and career. We are glad that our workshop has a special day for all women  on 8tf of March, International Women's day, we will end our workshop with famous people from art and bussiness life.
Wait, we haven't forgotten the craziest part of our event. You'll forget about any other cities or time you've spent anywhere, and you will never forget your most delightful time in your life, of course in Istanbul. You should know that one week is not enough to see all beauties of Istanbul which is a metropolitan with 17 million population ; however,  you 'll have an unforgettable 7 days without doubt.As one of the biggest cities, Istanbul is full of beauties, cultural activities, historical places and delightful nightlife of course. Istanbul has become the capital of 3 biggest empires of the history; Roman, Byzantine and Ottoman Empire. So just guess how old the city is and how much diversity and historical richness it includes. We are going to take you to Topkapı and Dolmabahçe Palaces where the Ottoman Sultans resided, the Hagia Sophia Museum from the 6th century, the Blue Mosque, Basilica Cistern and some more surprise beautiful places. Participants will also have the chance to watch both Asian and European Part from the middle of theBosphorus when we are making Bosphorus Tour as a tradition. You will taste Turkish Cuisine, Nargile and Rakı with Turkish hospitality. Can you imagine a street where about 1 million peopele walks on just in one day? That street's name is Istiklal and parties will be held in Istiklal Avenue which is the most crowded and crazy street you can ever see. Please do not forget to bring extra SD Cards for your camera, because your card will be full at the end of the first day!